From 20th to 23th December , 2017, We had chance to welcome our Bangladesh partners visiting our factories. The Chairman Nguyen Van Hai and the board members welcoming the delegation. The key products of our factory are: Aqua feed, Animal feed and Poultry feed. But today for the meeting's purpose, we refer to Aqua feed: For Cat fish and Tilapia Fish.
Before having come to the warehouse, We introduced to them our factory. The capacity 1000.000 tons/year specializing in Aqua feed
We comed to the storage. The customers were very amazed at our storage. It is very huge and modern. All the products are carefully packed in PP Woven Bags, PP Bags with PE inner, PP Woven Sand Bag and also PP Laminated Bags is ok as specially request from Customers. The sacks were stacked in the warehouse on the plank to avoid humidity, mold and dust. With the products with highly preservative requirement, we use our own fork lift machine to bring them up and stack them in a row. We arrange all the area reasonably to make sure the warehouse is always in best condition to store the products. Besides, the all the path is swept daily and the labor is forced to wear industrial protective clothing before entering workplace.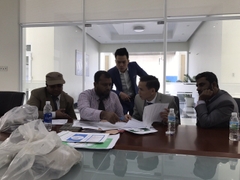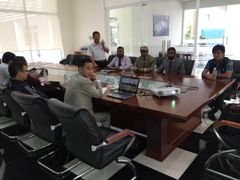 The customers were very interested in the Production line system and they really concerned about our technical machines. In workplace, we have Grain Elevator Machine, automatic feeder machine, hammermill stolz crusher, Press and Dryer System, LINE INJECTION SYSTEM,…
The research room also attracted them with the Modern analysis equipment. Moreover, they were caring about our product certificates.
After all, we led them to the farmer house walking around the farmer's feeding ponds. They learned many things about how to feed fish effectively? The way to avoid fish's diseases, the way to optimize fish's growth.
At the meeting, after thoughtfully discussing, both parties agreed to sign a long-term cooperation contract. On this occasion, on behalf of MICH., JSC's, Mr. Nguyen Van Hai - Chairman of the Board of Directors, sent many thanks to the delegation and wished the two sides cooperating more deeply in the future.